Exemplu de utilizare a I Ching
în interpretarea viselor
de Jean Chiriac
Un pacient a visat recent că vorbea despre boala sa cu un amic pe care nu l-a mai revăzut de foarte mult timp. Amicul și-a arătat surprinderea că visătorul nu mai bea (ca urmare a interdicțiilor tratamentului) și și-a exprimat îndoiala că diagnosticul și tratamentul sînt corecte. În vis, el insista foarte mult ca visătorul să consulte medicii "americani" care se aflau chipurile ca într-o misiune în țară. El era convins ca acești medici vor reevalua diagnosticul și mai ales indicațiile de tratament cu interdicțiile respective.
Interpretarea clasică, freudiană (1), îi amintește visătorului de unchiul G., pensionar, fost medic veterinar cu care avea discuții foarte pasionante pe diverse teme spirituale. Un om la care ținuse foarte mult în urmă cu circa 30 de ani și care îl apreciase la rîndul său foarte mult. Acest unchi a readus pe tapet relația visătorului cu tatăl său, atunci cînd mama lui a divorțat de el, iar visătorul și-a exprimat dorința să rămîn cu tatăl.
Probabil că era o exagerare (alegerea tatălui) prin care dorea să o pedepsească pe mamă. Înapoi în prezent, situația infantilă a fost pusă în corespondență cu relația visătorului cu soția sa și angajații ei. Unul din angajații ei îi crează în mod special probleme, dar visătorul nu s-a arătat foarte critic la adresa lui, poate din aceleași motive ca atunci cînd l-a ales pe tată (în loc de mamă).
Visul este interpretat apoi, la sugestia terapeutului, și cu ajutorul oracolului schimbărilor, I Ching. Întrebarea pusă oracolului a fost: care e semnificația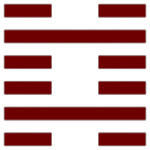 visului? Oracolul a răspuns cu hexagrama 29, Abysmal - Abisul (în traducerea lui Wilhelm), cu două trăsături pe locul 1 și 4.
Hexagrama vorbește la modul general de pericol și arată calea prin care se poate ieși din el. Judecata spune:
If you are sincere, you have success in your heart,
And whatever you do succeeds.
Dacă ești sincer ai succes în inima ta,
Și orice faci izbutește.
Cele două trăsături care se modifică nuanțează răspunsul. Prima, 6 pe locul 1, spune:
Repetition of the Abysmal.
In the abyss one falls into a pit.
Misfortune.
Repetarea abisului.
În abis se cade într-o gaură.
Nenoroc.
A doua, pe locul 4:
A jug of wine, a bowl of rice with it;
Earthen vessels
Simply handed in through the Window.
There is certainly no blame in this.
O cană cu vin și un bol cu orez;
Veselă de pămînt
Oferită cu simplitate prin fereastră.
Cu siguranță nu e ocazie de regret în asta.
Interpretarea nu e complicată: este adevărat că maladia este primejdioasă (cf. abisul care se repetă), dar o dietă moderată (în care e prezent și vinul) nu strică. De remarcat vesela din pămînt care, spre deosebire de cea modernă, are calitatea de a nu altera alimentele.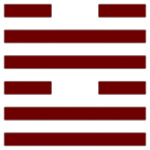 Hexagrama 29 se transformă (cum este cazul) în 58, The Joyous - Veselul. Judecata nu mai are nevoie de interpretare:

THE JOYOUS. Success.
Perseverance is favorable.

Veselul. Succes.
Perseverența este favorabilă.

Să subliniem diferențele notabile de interpretare dintre versiunea freudiană și cea care folosește oracolul: în cea freudiană am explorat viața emoțională a visătorului cu un popas în copilărie și o revenire la actualitatea care repetă trecutul. Cea inspirată de oracol are o cu totul altă orientare. Ea vorbește despre problemele actuale ale visătorului și de soluționarea lor pornind de la o dietă alimentară ponderată (în vis se vorbea inițial de interdicția totală de a bea).

"Prietenul" din vis pare a fi o entitate recunoscută în antichitate ca o personificare divină a medicinei, un soi de Esculap sau Asclepios. El știe mai bine care este adevăratul diagnostic și tratamentul care se impune.

Note:
1. Să amintim discipolilor jungieni că interpretarea viselor la Jung urmează aceiași pași ca și la Freud: mai precis, pornește de la

asociațiile visătorului. Numai dacă aceste asociații lipsesc se face apel la metoda amplificării.

Mai multe despre I Ching: